ATTENTION : Large Animal Rescue Response Equipment fundraising drive update.
The Delaware Equine Council (DEC) is spearheading this effort. At the 5/15/2023 DEC monthly meeting, the DEC voted to match all donations received, up to a total of $10,000. Our goal is to raise $20,000 to cover the cost of rescue equipment and a trailer to carry the rescue equipment to incidents as required.
As of 5/16/2023, we have received a total of $5660 (see below), so with the DEC match our total to date is $ 11,320 ! To those of you that have donated thus far, we can't thank you enough ! Again, all donations large and small are greatly appreciated !
Additional details on attached flyer.
Donations to date:
DelMarVa Driving Club – In Remembrance of George Parris – $560
Anonymous Donor – In remembrance of George Parris $1500
Audrey & Jarod Adkins – $200
C M Bowers Trust – $200
Richardson Park UMC Ladies Fellowship – $500
Arabian Horse Association of DelMarVa – $500
Laurel Saddle Friends – $500
Kim Crouch – $200
Cassandra Lynn King $500
Delaware Standardbred Owners Association – $1000
Stan and Laurie Vonasek – $1,000
Lynch Horsemanship – $25
Ed & Vicki Peters – $50
Pam and Wayne Nebel – $200
Dave and Gwen Hobday – $200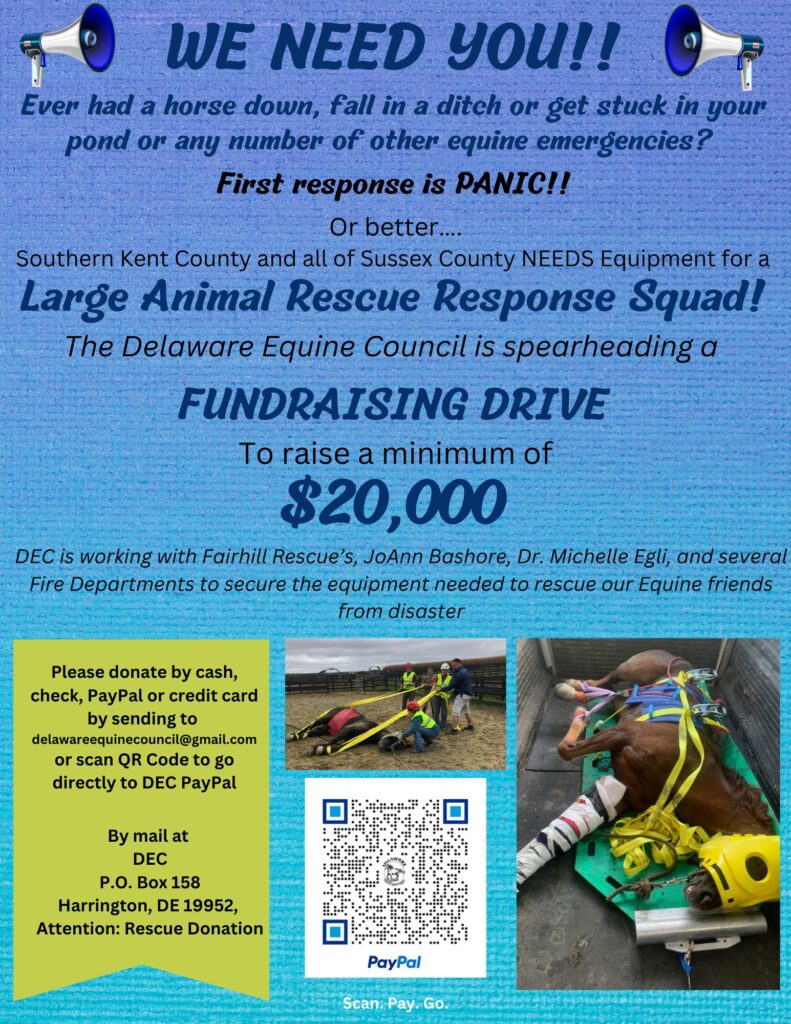 What Happened?
Sussex County lost its quick access to the large animal equipment used to assist in rescuing downed large animals of all types. New Castle and Kent counties currently continue to have large animal rescue equipment just a phone call away. Under the current situation, the wait time to get rescue equipment to a downed animal in Sussex County could take 3-4 hours or more due to the rerouting of calls between Sussex and Kent 911 Centers and pulling equipment and service providers from other counties. This is precious time wasted and may often lead to disastrous results.
What We Are Doing About It?
The Delaware Equine Council is fundraising to purchase large animal rescue equipment and a trailer which will be housed at a fire department in Sussex County. Our fundraising efforts include soliciting donations as well as hosting events to raise the necessary funds. We need a total of $20,000.
Who Benefits?
Any Sussex County owner of a large animal will benefit from the purchase of this equipment. Response time will be significantly decreased and survivability of the downed animal will be greatly increased. Additionally, rescue personnel from New Castle or Kent will no longer need to be pulled from their communities to assist those in Sussex County.
How Can You Help?
Make a donation through our DEC PayPal account
Send a check to the DEC at P.O. Box 158, Harrington, DE 19952
Attend our Quarter Auction at the Harrington Moose Lodge on Oct. 1, 2023
Now it's your chance to join these generous folks and contribute toward this worthy cause. Please feel free to share this flyer.